Academics/Curriculum
The curriculum at Gull Lake Gateway Academy is in accordance with the State of Michigan mandated Michigan Merit Curriculum. All required classes are offered as needed. Students will take most of their core/academic classes via a computer aided curriculum. Some teacher-led courses are offered when the staff can identify that more than a few students are in need of a format other than the computer curriculum.
GRADUATION REQUIREMENTS:
1.
A total of 19 academic credits:
4 English




4 Mathematics




3 Science




1 U.S. History & Geography




1 World History & Geography




.5 Economics




.5 Civics




.5 Physical Education




.5 Health




1 Fine or Applied Arts




3 electives



2.
20 hours of Community Service per year (or as determined by staff
): If a student does not have enough hours at graduation, they will be required to return to school and finish their commitment. Once enough hours are accrued, a diploma will then be awarded. If returning students do not have enough hours, the remaining hours will be added to the following year. Students sign up for activities and have until the day before the activity to remove their name. All students whose names are on the sign-up on the day of the activity are required to attend. Students may not change their minds at the last minute. Any student who does not participate and their name is on the list will be suspended.
Powered by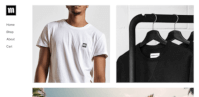 Create your own unique website with customizable templates.